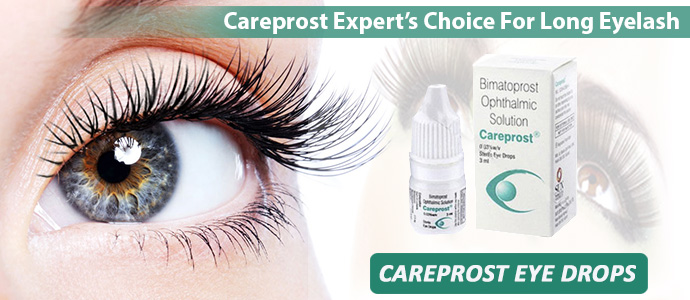 Careprost the Magical Solution Eyelash Enhancer
Eyes, the most used sensing in Human's body, we rely so much on our eyes that we never knew that our eyes too require some rest. We everyday use our phones, watch tv's, our eyes are always busy in front of a screen, did we forget that we need to make our eyes rest a little bit? Careprost 0.03% the soothing solution.
Careprost comes to rescue.
It helps in lowering the high pressure in the eyes and reduce the risk associated with vision loss. Decrease in the number of eyelashes. Now grow more and more eyelashes, it also increases the growth and length of the eyelashes. It has also gained popularity amongst beauticians and ladies. Get longer and darker eyelashes , every girl's dream.
It is still unknown how it works, but it has been quite effective in the growth of the eyelashes. With the regular use i.e being used daily and with little patience, see the new you. Just apply a drop of the solution on your eyelashes, within 10- 13 weeks, you will start noticing longer, thicker eyelashes coming out of the hair follicles. It has been found that this formulation has worked successfully on almost all people around the world, if it applied properly.
How to Apply?
Apply a single drop of the solution on an applicator which comes along the solution or you can use a sterile eyeliner. As physicians say do not use or use quite less amount of solution on the lower lid. Before application of the solution you should remove any applied makeup and make sure your face is clean before its application.
It has been seen if the application of the solution is stopped, it may revert the growth. Try the use of the solution for 10-15 weeks to achieve the maximum growth. Store it at room-temperature.
Buy Careprost from https://www.vaccimedpharmacy.com